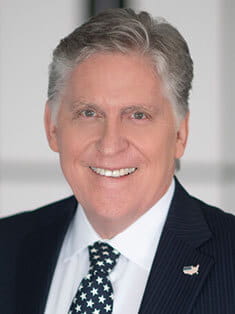 Matthew Beavers, CPA
Senior Financial Planning Consultant
Matthew Beavers has always made it his priority to provide high-quality personal service to clients. This was his driving force for over 34 years in his professional CPA career and now in his role as senior financial planning consultant with Beavers Wealth Management.
Matthew graduated from Texas A&M University College Station in 1981. He moved to Corpus Christi, Texas, where he became affiliated with the international public accounting firm of Peat Marwick Mitchell LP. Within a few years, Matthew joined a local CPA firm and became a partner in Whittington, Beavers and Hubbard PC. During his professional CPA career, Matthew focused on individual and business tax planning, compliance, estate planning, business planning and consulting.
Matthew moved to Fort Worth in 2015 to work alongside his son, Christopher, and champion the financial planning aspect of Beavers Wealth Management. Matthew's decades of experience as a CPA, business owner and financial advisor give him a distinct level of expertise when it comes to complex financial situations. His seasoned perspective combined with his passion for financial planning allows him to help families and businesses capitalize on the opportunities of their wealth.
Matthew and his wife, Pamela (also a degreed accountant and his high school sweetheart), have two children. In addition to their son, Christopher, they have a daughter, Kayla Amason. Matthew has been very active in Rotary as well as other civic and charitable organizations. He enjoys all things family, travel, music and football.
P.S. Personally speaking
Q. What are your must-have travel items?
When I travel, I must have my music. As I have gotten older, I also need my own pillow!
Q. What is your favorite kind of trip? Why?
My favorite way to travel is by cruise ship. You unpack once and get to visit so many different places during the same trip.
Q. How do you spend your time outside of the office?
I love spending time with my wife and family. This includes traveling, going to the movies and out to eat, shopping or just hanging out.
Q. If you weren't doing what you do today, what other job would you have?
I would like to work for Disney. I am not sure if that would be in the parks, in the theatrical division or in the Imagineering department.
Q. What's the one thing that might surprise others about you?
See answer above.
Q. If you could spend a week anywhere in the world, where would it be?
I would like to go back in time and have a visit with Walt Disney, members of the Beatles and some of my family members who have left this world.
Q. What's the one thing you couldn't live without?
Diet Coke and peanut butter (creamy).
Q. How do you define success?
I define success as doing whatever it is to the best of my ability. This would include being a good person, father, husband, friend, CPA and mentor.
Raymond James and its advisors do not offer tax or legal advice. You should discuss any tax or legal matters with the appropriate professional.